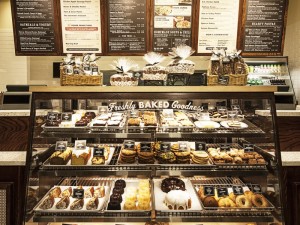 The Temptation!
After our Friday morning men's prayer we went over to Corner Bakery for our morning breakfast. I was standing there looking at the menu trying to decide what to have for breakfast when I got a whiff of hot cinnamon rolls and my mouth started to water. Then I noticed the fresh chocolate bunt cakes with frosting flowing over the edges sitting next to the lemon bars and the stacks of cookies, temptation was crouching at the door! Could I resist the sweet temptations?
I knew that if I gave in and had the cinnamon roll that I would pay for it latter. I would be hungry and tired in a couple of hours. It wouldn't be truly satisfying, so I had the Apple Sausage Panini, which left me satisfied.
The Revelation!
While I was on my way to work I was listening to John 4 from "The Bible Experience" which is a dramatized reading of the Bible, and the Lord spoke to me about satisfying food. John 4 is the story about the Samaritan woman at the well. Jesus sent His disciples into town for lunch. When they got back there they were urging Jesus to eat but he said to them "I have some food you don't know about." And the disciples tried to figure out how he got some food. Then Jesus explained what He meant, "My nourishment comes from doing the will of God who sent me, and from finishing his work."
Just like I choose food that was satisfying for breakfast Jesus made the same point about the Christian life. Just like the food that is nourishing and satisfying to our bodies, "doing the will of God" is what is truly fulfilling and satisfying to our lives.
The Epidemic of Malnourished Christians.
In my observations over the years across many different churches many people are leading the defeated Christian life. It is not for the lack of activity but it is "doing the will of God" which is missing.
We all have a "God shaped vacuum" which we try to fill with many different things. Some of us try to satisfy that need with things, a career, media, entertainment, and relationships. Some turn to the "Dark Side" and turn to alcohol, drugs or other destructive activities. And some try to fill that need trying to please God going to church, feeding the poor, sharing about God to others or other "Religious" activity.
The activities may be great activities but not necessarily "God's will." As Jesus said, "My nourishment comes from doing the will of God who sent me, and from finishing his work." True fulfillment in our lives only comes through daily  "doing the will of God." The key is learning how to hear God's voice and find His will for our lives and live it out in our daily lives.
A minister Bob Jones said that "I could be in front of a crowd of 5,000 preaching the Gospel or pulling weeds in my garden as long as I am in God's will the pay is the same."
If you want to check out more on this topic read my article on the "The Secret to Living the Christian Life. "